My Hobbies

It's quite obvious that my favorite hobby is art. Two of my other favorite hobbies are collecting horror and video game memorabilia. Ever since I was a child I was fascinated by video games and horror movies. I used to watch an old TV show called Creature Double Feature which aired in the late 70's and early 80's. They would show movies such as Godzilla, Frankenstein, Creature From the Black Lagoon and other sci-fi / horror stuff. My introduction to video games started in the late 70's when my brother would bring me to a bowling alley in our town. The first game I played there was Asteroids..... which really got me hooked, then that led to Space Invaders, Centipede and every other game in the years to come
.
The picture on the bottom of this page is actually a photo of my old bedroom where I grew up. As you can see there is quite an assortment of horror and video game collectable's. The rest of my room was filled wall to wall with strange and interesting things that had to do with art, horror and video games. Any time someone would visit my room for the first time, the first thing they would do is either say "Oh my god" or "Wow!!!" and some would just walk from one end of the room to the other and gaze at all the stuff. A good portion of my collection was donated by friends and family. Yard sales and flea markets also were great places to find items for my collection.
My wife and I before we were married built up a large collection of video games and game systems. Right now we have about 36 game systems which include Pong, Telstar, Atari 2600, Atari 5200, Atari 7800, Atari 800, Atari 400, Atari Jaguar, Paddle 4, Paddle 2, Colecovision, Sega Master System, Sega Genesis, Sega CD, Sega 32X, Sega Saturn, Sega Dreamcast, Nintendo Entertainment System, Super Nintendo, Nintendo Virtual Boy, Turbo Grafx 16, Turbo Grafx CD, Playstation, Playstation 2 and the rest I can't remember because we had packed them away. The last time I checked on how many games we had total was at least over 1,000. At one point I was going to try to sell a good portion of our collection, but I couldn't bring myself to it. I figure it would be a great collection to pass onto our kids.
In the past numerous people have asked me when I was going to grow out of horror and video games, but I don't ever see that happening. It's just something I will always take an interest in and lucky for me my wife enjoys the same things.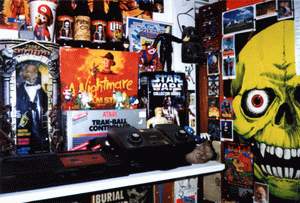 A part of my old bedroom ( above ) and our new houses computer room ( photos below ).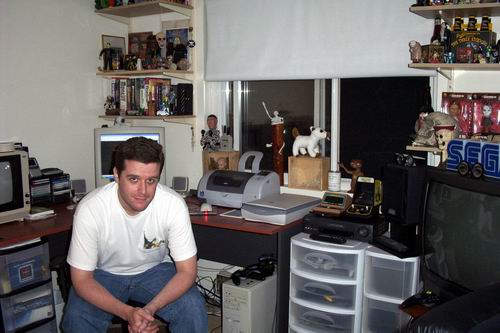 One of my favorite places to be! This is where I work on (and frame) my art,
create fliers, set up events, update my website, edit videos, talk to my
friends and play video games
(unless we're playing on the new systems in our living room).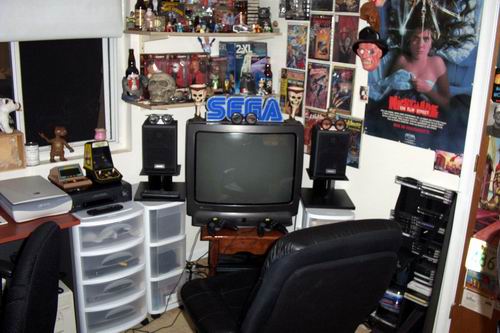 This is where me and my friends play arcade games. I have the PC output to
the TV through a GeForce4 Ti 4400 and the sound output to the stereo. I hooked
up 4 Sidewinders so I can have more than 2 people play. 4 player games are a
blast! Bomberman anyone???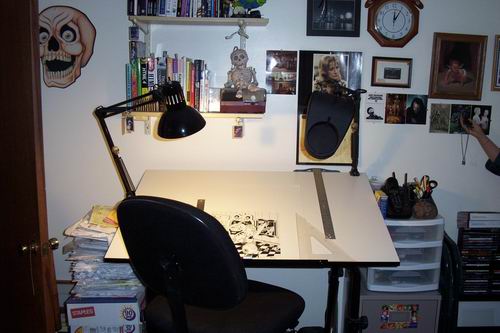 This is my drawing board (and electronics workstation). I like to have odd and
interesting things around me which motivate me.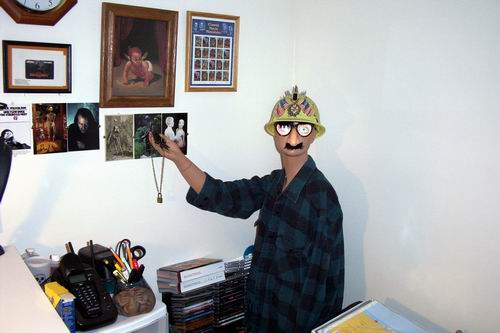 This is the mannequin that stands in the corner of our room. It was given to us by my
wife's brothers girlfriend (thanks Steve and Abby). It originally belonged to a very
cool woman named Tony who sadly passed away. She named it Stoney and it will
always be a part of our collection as a tribute to her kindness and coolness.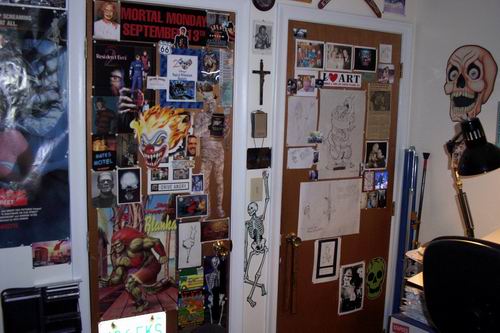 This is the entrance to the computer room.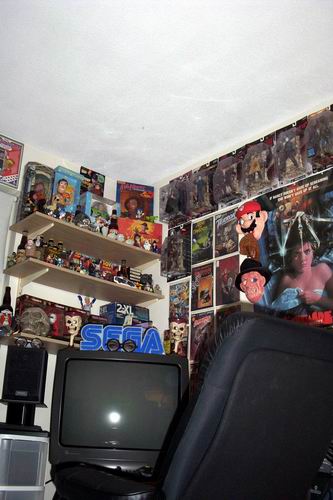 Did I mention I love video games and horror stuff???
Please feel free to s
i
gn my guest book
Please visit my two artwork shops
(click on the banners below)